Note: Our 2021/2022 team will be posted in August
Ilinca Drondoe
Ilinca Drondoe is a sixteen year old junior and the current President of Mosaic MUN. As a part of the team since 8th grade, she has enjoyed going to nine conferences and participating in committees as diverse as NATO, the International Skating Union, and UN Women. MUN has sparked her interest in the intricacies of foreign policy, the complex negotiations behind world events, and the important role that diplomacy plays in resolving conflict and driving solutions to the world's issues. She hopes to study international relations and political science in the future! Some of her other passions include reading as much historical fiction as she can get her hands on, following the news, watching Madam Secretary, and advocating for climate action and gender equality. Ilinca can also be found interning for her U.S. Senator's re-election campaign. She couldn't be more excited for the year ahead and participating in more incredible MUN conferences with her teammates!
Noah Bellmare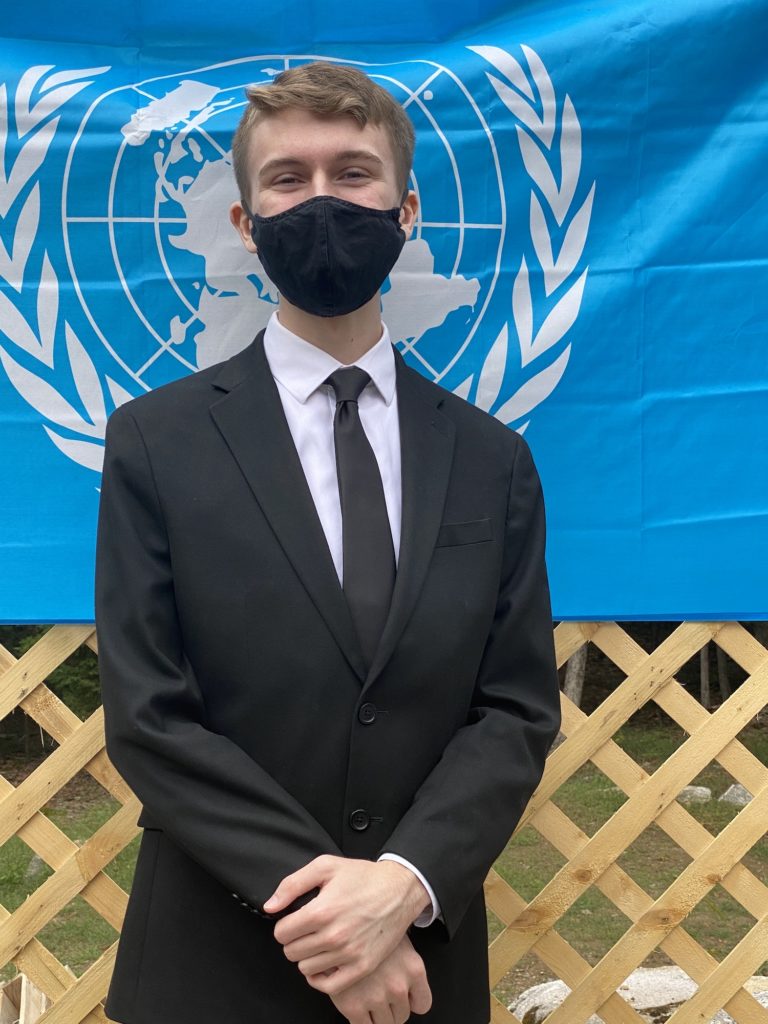 Noah Bellemare is 18 years old and has been a member of Mosaic Model UN for three years, as well as being current Vice President of MOSMUN. He has participated in three conferences thus far, and eagerly awaits his first online conference, SSUNS, coming later this year. His committee repertoire includes the Roman Senate circa 60 BCE, Michael Bloomberg in the 2020 presidential election, and Algeria during the Taiwanese/Chinese conflict in the 1960s. He has greatly enjoyed his time in MUN and loves the simulation and research aspects of the committees, as well as the cooperative problem solving skills that he has learned throughout his MUN career. When not frantically rallying blocs and merging draft resolutions, he can be found studying game design and computer technology at New Hampshire Technical Institute in Concord, adding to his ever-growing library of Stephen King novels, binge watching period dramas, playing video games with his countrywide group of friends, and cooking as much breakfast food as is physically possible. He is incredibly excited (and hesitant) to finish up his career in Model UN with an amazing year of conferences, new experiences, and fun times spent with his team!!
Annalise Kuhlmann
Annalise Kuhlmann is a 17 year old senior in high school and has been part of this Model UN team for 4 years. in conferences, Annalise has represented countries such as Finland and Yemen and characters such as Brendian Mitchell of the NAACP and Maria Dolores Aguero of Honduras. She has also debated topics such as domestic worker rights, Space law and climate change, and the power struggle in Venezuela. In her spare time she enjoys reading way too much, Fighting social injustice, listening to ABBA, and probably watching Marvel movies. Annalise is feeling very bittersweet about her last year in Model UN, but can't wait for this year of conferences!
Acadia Knickerbocker
Acadia, a 14 year old Highschool Junior, is entering her third year debating on the MOSMUN team. She has participated in 5 conferences, including Netflix, Press Corps, and DRR. She loves debating all topics from Women's Rights to Where- The- Pilgrims -Should-Have-Landed. In her spare time, Acadia paints, learns photography, plays guitar, and effects local change through town council hearings. She pursues philanthropy by working with various businesses to build tiny homes for her areas homeless. Acadia is beyond excited to dive into this years conferences!
Angus MacPherson
Angus MacPherson MacBeth is a 15 year old sophomore who will be beginning his third year of Mosmun. Angus started model UN back in the fall of 2018 in the 8th grade, he has done a total of seven conferences five in person and two online with many more on the way. Angus has represented the countries of; Poland in DISEC, Canada in UNEP, Cameroon in UNISDR, Mexico in ECOFIN, Denmark in UNICEF, the UK in Brexit, and Uganda in discussing the regulation of UN peacekeepers. Angus's favorite conference was actually an online one where he represented the UK in the Brexit negotiations; this is also where he won his first award, Honorable Mention. When not honing his skills in MUN, Angus can be found doing an assortment of many things like playing too much of the Witcher 3, Biking or playing D&D as both a player and DM. He can also be found hanging out with friends and getting armbarred in BJJ. Angus is extremely excited to start his third year with MOSMUN and doing both online and hopefully in person conferences.
Olivia Morrison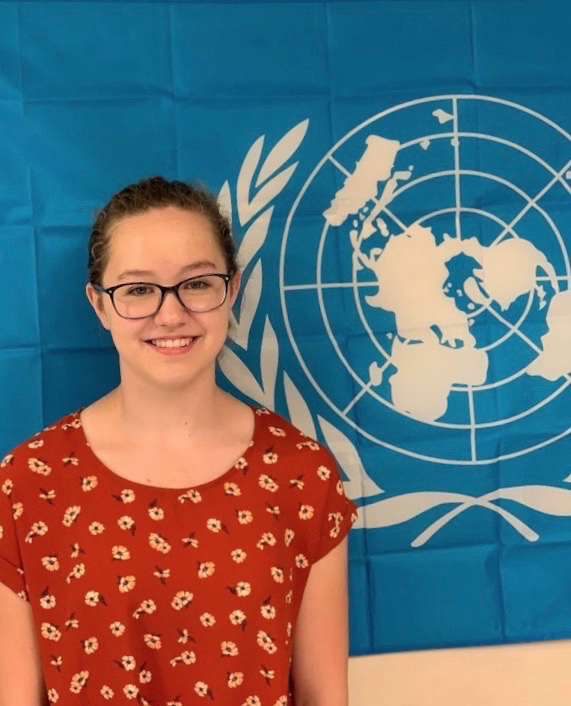 Olivia Morrison is a junior and this is her second year of Model UN with Mosaic. She represented the Indigenous peoples of Latin America in her first conference last year, and was going to participate in the 19th Central Committee of the Communist Party of the Soviet Union until COVID-19 struck! Now, with lots of free time stuck inside, she enjoys playing guitar, learning about transcendentalism, and looking at pictures of frogs on the internet. She is super excited to begin another year of research deep-dives and fast-paced conferences!
Gracie Morrison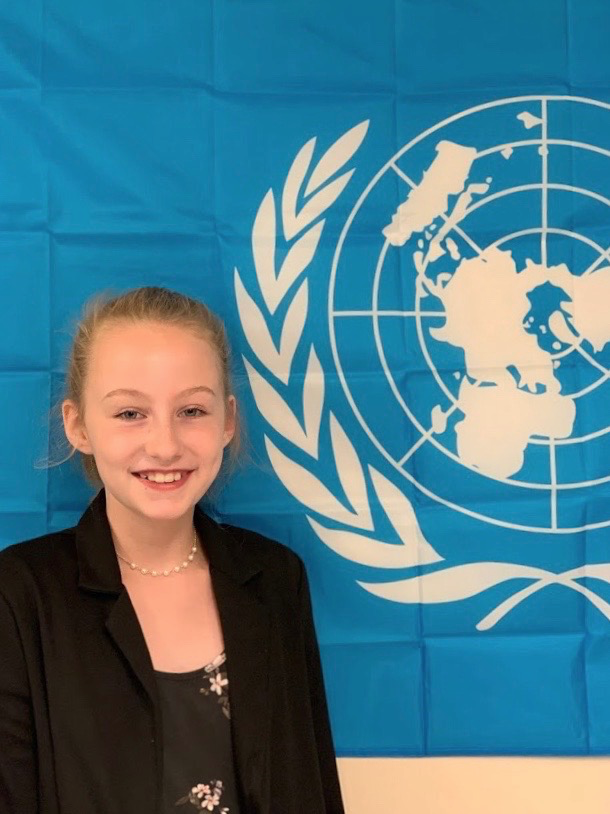 Gracie Morrison is a fourteen year old freshman in highschool, participating in Mosaic's Model UN team for the second year. Gracie has always been interested in politics and foreign relations, and decided to join MUN in order to improve her public speaking, meet new people, and learn about different places and conflicts across the globe. She has been able to participate in one conference thus far, and is excited to take part in more this upcoming year! Aside from being part of the MOSMUN team, Gracie enjoys traveling, photography, swimming, and music. She can't wait for another successful year!
Hanne Stuke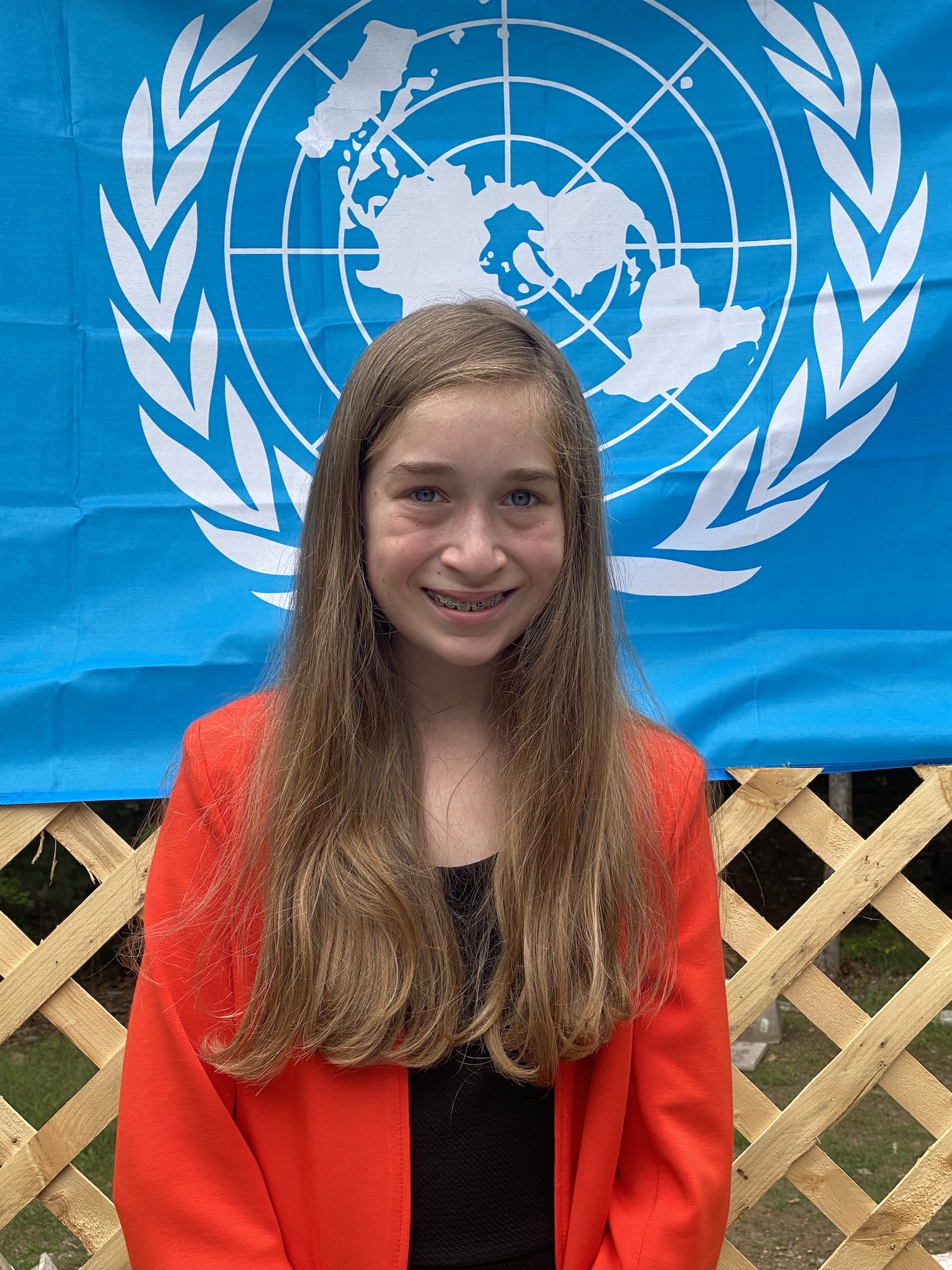 Hanne Stuke is a 12 year old 8th grader and a first year MOSMUN student, however she is planning for many more years to come. During the 2020 primary season, Hanne canvassed, phone banked, and held signs for almost 75 hours! Hanne is very interested in law and political science, and she is excited to learn more about government and global issues. Hanne is very excited for her first conference, even if it is online! Some of her other passions are reading, going for long walks, violin, archery, and learning.
Tobin Smith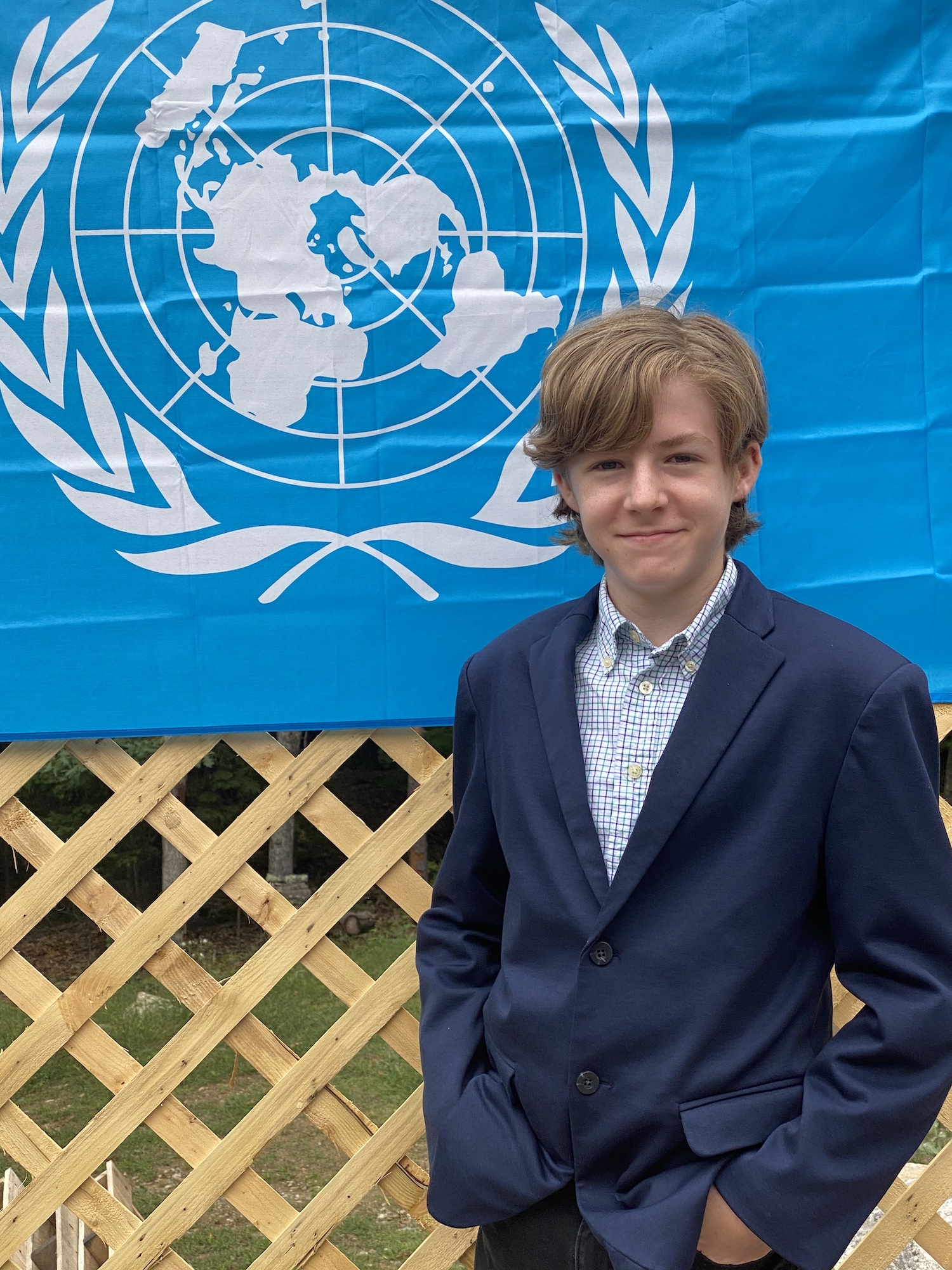 Tobin Smith is 15 years old and he is entering the tenth grade. This will be his first year in Model United Nations. He wants to join Model United Nations to improve his public speaking and learn more about the world. He also hopes that it will help him with his career pursuits. He has seven siblings (five brothers and two sisters) and owns two hermit crabs, Bucky and Sarge. He enjoys watching sports, writing poetry, reading, the outdoors, and building things. When he is not busy with his energetic lab Rohan, he enjoys watching his two intrepid hermit crabs explore the realm of their tank. He also likes to fly his FPV drone.
Mark Hassler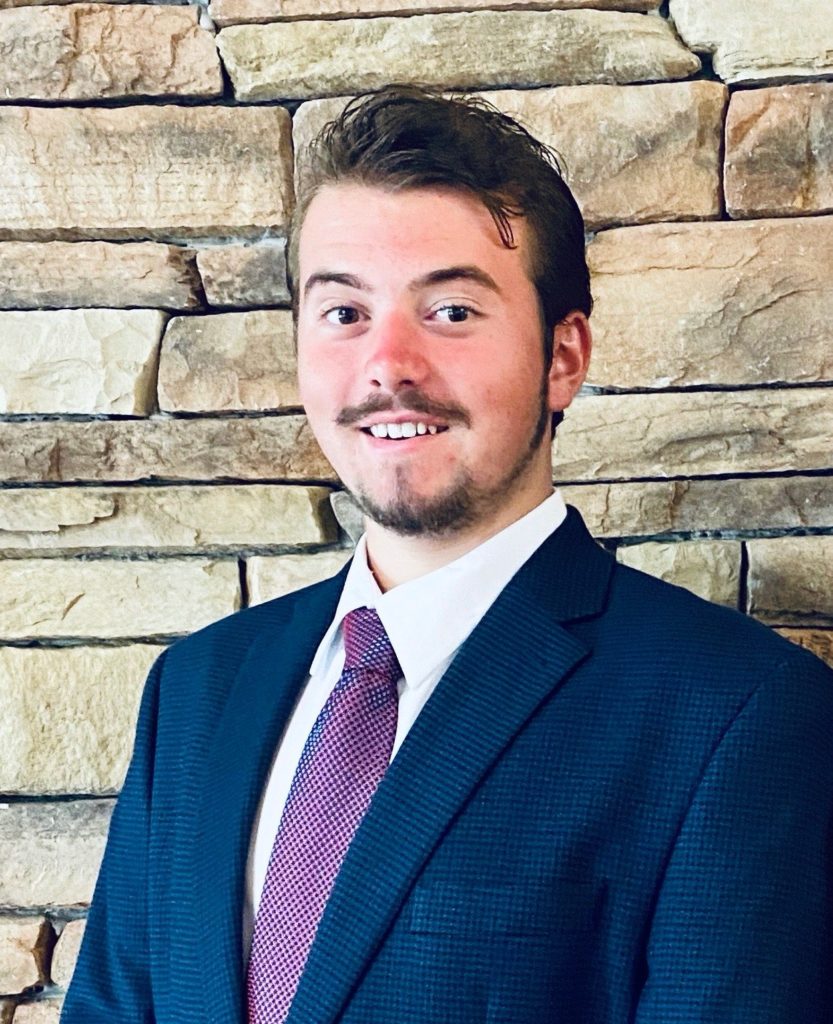 Mark Hassler is a 17 year old senior in high school and is starting his first year in Model UN. He wants to join Model UN to meet new people and improve his public speaking skills. His hobbies include but are not limited to, sailing, playing video games, watching anime, skiing, bowling, photography, archery, listening to music and 3D printing. He also enjoys cooking, his favorite things to cook are sandwiches and Italian food.